From the outset of the coronavirus outbreak, banks have been ready to help clients through these uncertain times. The Dutch Banking Association, or NVB, was set up to promote the interests of the banks in the Netherlands. Measures being taken now to combat the pandemic are having a sweeping economic impact. Hello Zuidas caught up with Chris Buijink, president of the Dutch Banking Association, to talk about the coronavirus crisis and its effects.
What role may the NVB play during the coronavirus crisis?
'Back in March, banks had already decided to support businesses whose operations were hit by the outbreak. Banks offered six months' deferment on outstanding loan repayments. The NVB was also involved in discussions with the Dutch administration on adapting existing programmes, like the Credit guarantee for SMEs and Corporate financing guarantee to the coronavirus crisis. This led to the adoption of our proposal to create a Small credit guarantee for SMEs, providing loans up to 50,000 euros. That's in addition to the government assistance packages. Regular credit to businesses will continue as well, which is rather unusual in times of crisis. And we've been rigging all this up from home. It may be quiet in Zuidas, but it's buzzing on the digital superhighway!'
The NVB has been issuing coronavirus monitors. What are they exactly, and who are they for?
'We wanted to show the extent to which banks are giving businesses some slack to weather the crisis. The 2 October monitor shows banks have financed approximately 25 billion euros so far. The monitor is also something of a gauge of how companies are doing. You can see, for example, that use of the government guarantee schemes has been limited up to now, signalling that government measures like the continued payment of wages under the NOW programme (Temporary Emergency Measure for the Preservation of Jobs) and tax deferments are having the intended effect. But we also realize this may still change in the time to come. Banks are ready for stormy weather.'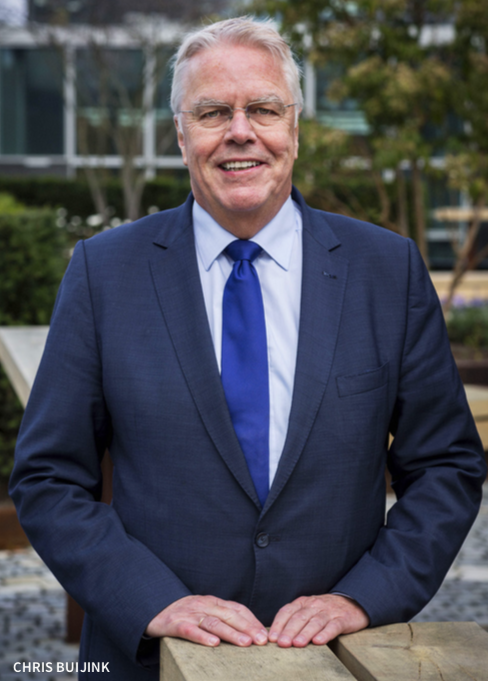 The pandemic is raising pressure on banks because of the additional loans they're giving out and the loans business owners won't be able to repay. Is deferred repayment giving businesses some financial oxygen?
'Banks are doing everything possible in this crisis to support customers, businesses and consumers alike. That's a lot, but they can't rescue everybody. The assistance is meant for businesses that are fundamentally healthy and can be expected to recover after the crisis. Additional loans are approved only where justifiable and if the bank expects the business can repay in time.'
The banks have remained stable in this crisis. But are their buffers large enough if it lasts a long time?
'It's a blessing that banks were strong early on in this crisis. Buffers have been substantially enlarged in recent years, and we've worked with public and regulatory authorities to forge a robust financial system, so banks that run into trouble won't have to be propped up with taxpayer money. EU Banking Union measures have ensured banks can keep themselves afloat. That's not to say banks won't also incur losses in this crisis. There is a big credit risk – the risk that businesses can't repay their debt. Banks can cope, but a prolonged crisis will impact on all aspects of our economy; that's unavoidable.'
What's your outlook on the future of the economy?
'The future of the economy is closely tied to how this virus progresses and the development of a vaccine. From an economic vantage point, we need to do all we can to avoid a second lockdown, which would have many negative effects on businesses and so also on employees. In parallel with that, we have to keep working on the tremendous challenge to green our economy. As I see it, the new cabinet will play a major role in formulating clear transition paths for sectors. The cabinet's investment plan also presents opportunities to get large-scale infrastructure and sustainability projects off the ground, especially now. All in all, the future's very uncertain, and it's not going to be easy. It will test in how far companies and individuals, all of us, can adjust our course.'