FM Platform: Greening Zuidas
On 23 September, Hello Zuidas organized a 'green walk' through Zuidas as part of the effort to offer alternative ways for people to get together and learn from each other during the pandemic. Themed 'greening Zuidas', the outdoor meeting was made possible by Hello Zuidas' Facility Management Platform and intended to inform businesses, organizations and residents about area developments, as well as to inspire and enlist them for greening the district.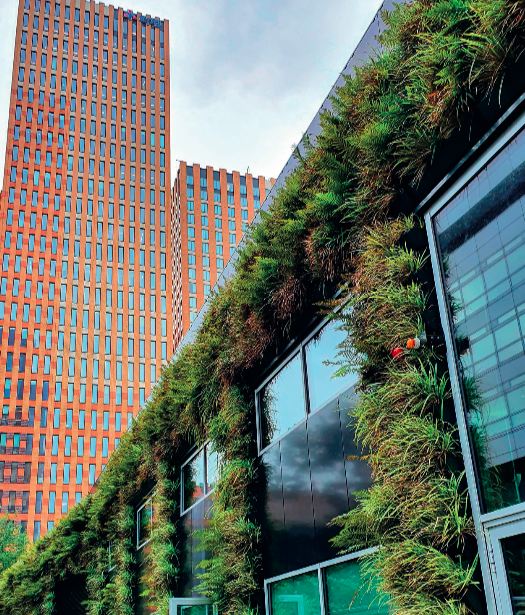 CIRCULARITY
The walk set out from Circl, a prime example of innovation and circularity, where everything revolves around high- quality reuse of materials. Designed for energy-neutrality, the building produces almost no waste. Sjors Mineur, in charge of programming at Circl, took us on a journey through the platform's story. The focus, he explained, is on reusing materials and climate resiliency. After that, Daniel Goedbloed, Rainproof programme manager at Waternet, picked up the thread. By a stroke of luck it was raining during the presentation, allowing Goedbloed to demonstrate how rainwater can be captured and to describe the many ways companies can use it. Rainwater is great not only for flushing toilets, but also boosts biodiversity.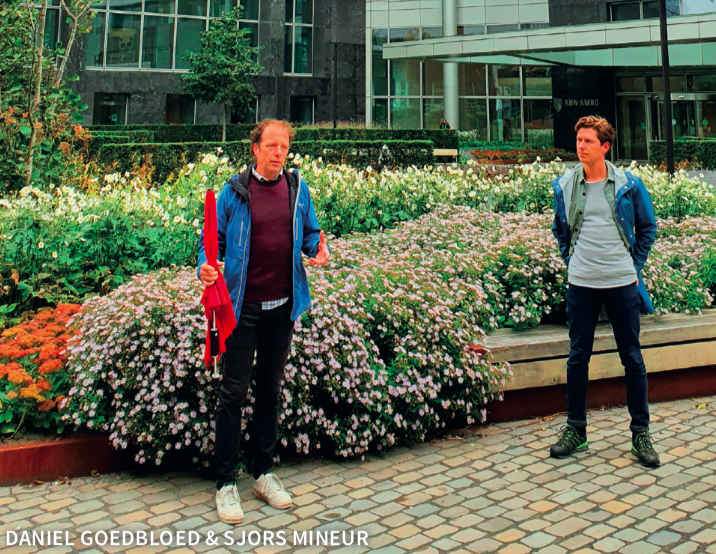 PRINSES AMALIAPLEIN
Awaiting the group at Prinses Amaliaplein was Ton Muller, head designer of Public Space for the Municipality of Amsterdam, where he's in charge of Zuidas. As a designer, Muller was involved in the renewal of this public square. The design was chosen by the municipality, in careful consultation with local businesses and residents of the Prinses Irene neighbourhood and features four different materials. Prinses Amaliaplein is meant to create a soft transition from the Zuidplein to the Prinses Irene neighbourhood. According to Muller, sizeable investments in planting are slated for the coming years, tying in with concrete targets set in the Plan for a green Zuidas.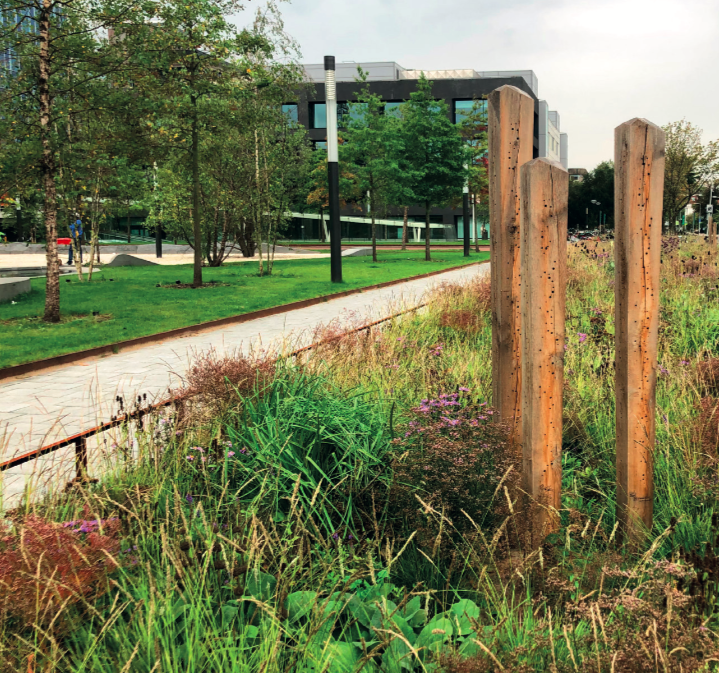 From Prinses Amaliaplein, the group continued past the 'WADIs' (an acronym from the Dutch Water Afvoer Drainage Infiltratie, or 'water disposal drainage infiltration') to the Goede Doelen Loterijen garden, where Real Estate project leader Esther Wubben awaited us. With the lottery organization previously spread out across multiple buildings all over Amsterdam, Wubben was tasked with consolidating all departments at one building. One of the most important conditions was that the structure had to contribute to the organization's sustainability and environmental goals. This gave her unrestricted freedom to consider the most sustainable solutions for all aspects of the new premises. It was built in part from recycled materials, resulting in a climate-proof and almost wholly self-sufficient building and a BREEAM Outstanding certificate.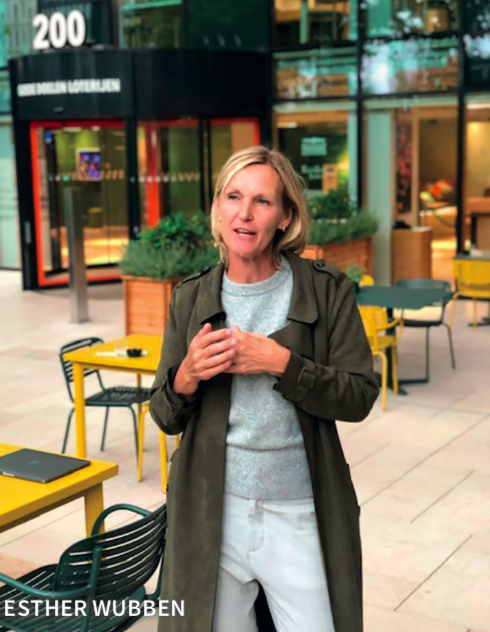 The last area discussed during the green walk, was the Beethoven subdistrict at the top of Beatrixpark. There are some big changes in store for this slice of Zuidas, where three new buildings are planned. Ton Muller described how the landscape around the buildings will be given a green and recreational function. All of which is set to make Zuidas an even more mixed- use district!