New tendering process for Zuidasdok
In the coming years, new contractors will be responsible for parts of the Zuidasdok project. Rather than being awarded to a single contractor, the project will be put out to tender again, this time in packages of related work. A market consultation took place on 26 June 2020.
In order to make the whole project manageable, the commissioning authorities for Zuidasdok – central government, the City of Amsterdam, vervoerregio Amsterdam (Amsterdam regional transport) and the Province of Noord-Holland – have opted to divide it into subsidiary projects (or work packages). Good agreements have been reached with the ZuidPlus construction consortium with regard to the 'separation'. As before, the Zuidasdok project will involve the construction of an updated Amsterdam Zuid Station, the widening and partial tunnelling of the A10 South ring road and alterations to the De Nieuwe Meer and Amstel interchanges.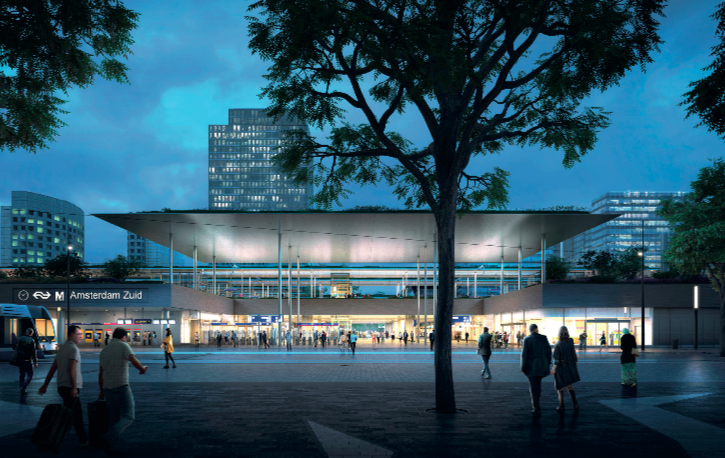 THE PERIOD AHEAD
So, what do the plans and schedule look like for the short term? It will take the rest of 2020 and the first quarter of 2021 to prepare for the first part of the tendering process. At the same time, we will complete the definitive design for the updated Amsterdam Zuid station. The first work package can then be awarded in the second half of 2021. In mid-2022, work will be able to start with the new contractor.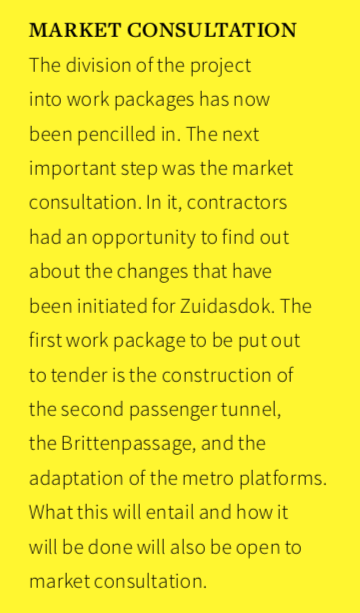 IN THE MEANTIME
In the meantime, work will not grind to a halt. We will continue to prepare to insert two new roof sections for the Brittenpassage. A first section was inserted into position at the start of November 2019. During Whit weekend approximately a hundred foundation piles were reinforced and concreted. In the spring of 2021, foundation blocks will be put into place on these before we insert two roof sections later that year: under metro track 1 and railway track 4. This work will be done by ZuidPlus, as was agreed on termination. We have also submitted an application to ProRail, GVB and Rijkswaterstaat (part of the Dutch Ministry of Infrastructure and Water Management) for clearance for construction periods in 2022, in order to continue work on the Brittenpassage. During these periods, fewer metros and trains will be able to run and the A10 Zuid may need to close in one direction.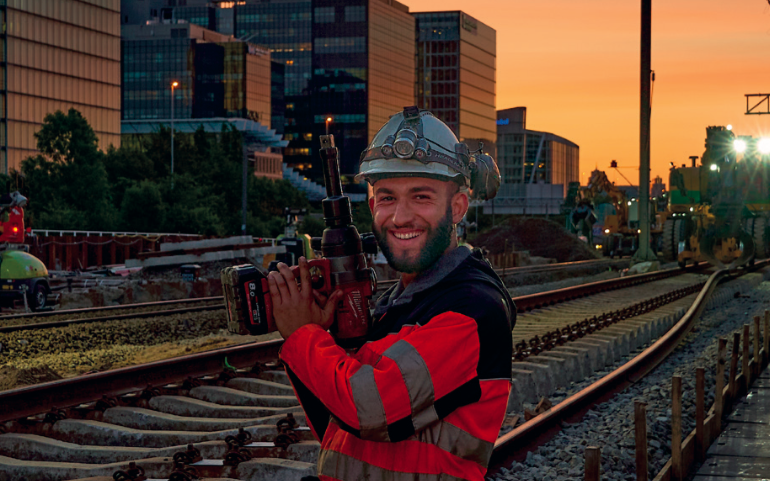 VAN DER VALK ZUIDAS NOW OPEN
As from this summer, guests are welcome at the brand-new Van der Valk hotel in Zuidas. The stunning, sleek design by Wiel Arets brings another architectural gem to Zuidas. Its construction (by Pleijsier Bouw) took two and a half years. The hotel is definitely worth a visit. 'We want to make this hotel a kind of "living room" for Zuidas, where local residents are also welcome to come for lunch', says Kristien van der Valk, who was in charge of the interior.